Written and Directed by: Jean-Marc Vallée Starring: Vanessa Paradis, Kevin Parent and Hélène Florent
Café De Flore is a deeply personal inquisition. Have you ever been stuck by love like the addictive pulsating beat of your favourite song? You have an almost uncontrollable impulse to move; you don't see any other option but to bounce or tap to the beat. Have you ever been struck by love in the same way? Has your sense memory imprinted the feeling you had for someone to a song? The tune is tattooed to your consciousness; it's an aural time machine - to that moment, those deep, primal feelings. Have you ever been so deeply and irrevocably in love that you'd rather die than live without it?
Café De Flore uses the song of the same name to echo three concurrent love stories: A love story between Antoine (Kevin Parent) and his new love Rose (Evelyne Brochu); Antoine and Carole (Hélène Florent) his first love and veritable soul mates; and between Jaqueline (Vanessa Paradis) and her Down syndrome son Laurent (Marin Gerrier). This mystical and odyssey of love intertwines their stories as the beats of Café De Flore reverberate through time.
Writer/Director Jean-Marc Vallée wonderfully intersperses the tangible existence with projections of the subconscious from the actors, their fears and desires surround and inform their decisions. The style is sensual, the passion is palpable. The director wants to disorientate you, you're never quite sure how what you're seeing is connected, or whether it's some kind of subconscious projection. The use of the song Café De Flore in its many versions and via multiple mediums (played as the score, played incidentally through record players, iPods, DJ sets etc) is balanced to perfection. It's essential that you're hypnotized by the beats to draw you into the film. The film projects different kinds of love and Vallée tonally shifts to accentuate each portrayal.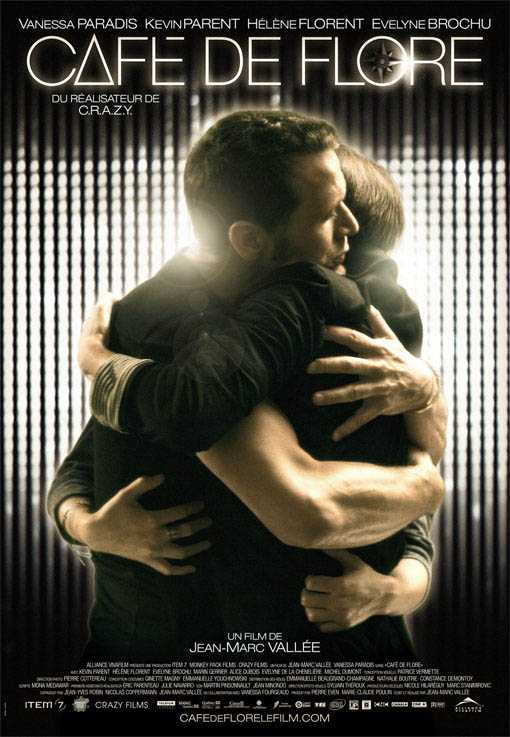 The performances are extremely well crafted, none better than Paradis' Jaqueline. Vanessa Paradis is mesmerizing as the single mother in 60s Paris struggling with caring for her Down syndrome son Laurent (Gerrier). Her battle to work, care and continue to defy the medical predictions of a limited life-span and with the stigma of the disability during that time. Paradis is a beacon of love and care - Laurent is her universe and the weight of her constant care doesn't diminish her love. Her love is challenged by the routine changing when Laurent gets a new classmate, a Down syndrome girl named Véronique (Alice Dubois).
The other tales are set between brief flash backs of 20 yrs ago and modern day French-speaking Canada. Kevin Parent plays a wonderfully tortured and searching Antoine torn between two loves; the uncontrollable and deep fiery passion with Rose (Evelyne Brochu) and that of his ex-Wife and soul-mate Carole (Hélène Florent). Parent and Brochu weave an intense and insatiable physical love - their magnetism is arresting. Their on screen chemistry is electric. This is juxtaposed with Florent and Parent's innate deep legacy of love built on their childhood friendship. Parent and Florent's love is inferred in flash-backs. There's an innate and fundamental understanding between the two. They're kindred spirits from childhood and Florent's Carole is suffering in the wake of a life that has no meaning without her soul mate Antoine. Carole is in a perpetually tormented altered state, having terrifying recurring dreams that give her an insight into the life of Laurent.
Café De Flore is a tragic, beautiful tale of love remixed through time; where the chords resonate true in every remixed incarnation. 
[rating=4]
Blake Howard - follow Blake on Twitter here: @blakeisbatman
Blake Howard