"Baby Driver" (2017) Review
"Baby Driver" follows the fresh faced and effortlessly charming Ansel Elgort as the eponymous "Baby," a getaway driver with tinnitus who constantly plays tunes to drown out the 'hum in his drum.' His employer Doc - played by Kevin Spacey - has been collecting a debt from the young 'devil behind the wheel' since Baby unwittingly stole one of Doc's cars loaded with a score. With his dues nearly paid Baby meets Debora - played by Lily James - and their connection is inspiring a swift getaway on the horizon. Just when he thinks he's out, Doc pulls his lucky charm back in with an all-star crew - Bats (Jamie Foxx), Buddy (Jon Hamm) and Darling (Eiza González) - for one final job.
"Baby Driver" is not like any heist movie that you've ever seen before. Writer/director Edgar Wright's meticulousness and mastery takes a keen eye on first viewing to get a hint at the level of fastidious planning that went into every aspect of the film.
Saying the score is essential to how you view the film is a drastic understatement. During Wright's Sydney premiere Q and A with Dr. George "Mad Max" Miller he revealed that he'd gone down to the level of knowing what amount of time that he wanted to spend on a particular scene began to be influenced by the tracks that he wanted in the film. The car chases are unbelievably kinetic and function to flow and thump along with a precise rhythm of Wright's revved up playlist. 'Bellbottoms' by The Jon Spencer Blues Explosion, 'Hocus Pocus' by Focus, 'Radar Love' by Golden Earring and 'Brighton Rock' by Queen are tracks that will be to blame for you speeding after this film. After the opening chase sequence, Baby is sent from Doc's hideout to get the gang some coffee. Elgort stutter steps and grooves along to the 'Harlem Shuffle' by Bob and Earl and along the entire route graffiti is splashed along the Atlanta street route to perfectly coincide with Baby's swagger.
There are some films that are so canny with their craft of assembling dialogue that throughout the film that on repeat viewing you start to hear the same words, thoughts and sentences unfolding from different characters. The Coen Brothers masterpiece "The Big Lebowski" rewards for repeat viewings for this very reason. For Wright's "Baby Driver," the dialogue of our leading man is a composite of lyrics, grabs from T.V and even remixed interactions he's witnessed or participated in with other characters that make up the way that he communicates.
Elgort is a sensational. Prior to the release of "Baby Driver" there were reports that Elgort had been in the mix for the "Young Han Solo" film. At the time I remember being slightly baffled at the choice. Wright has just created some of the best evidence as to the young man's potential. With the posture and stoicism of Ryan O'Neill (the lead in Walter Hill's "The Driver" read Edgar Wright recast the film in 1974 here) and glimmers of Paul Newman's ability to flip intensity into playfulness with the slightest glimmer of the eye.
Kevin Spacey is perfectly cast as Doc, the man with a presidential air ("House of Cards") and a subterranean menace ("Se7en"). Lily James is completely mesmerising as the diner waitress sweet heart Debora. James and Elgort have the kind of chemistry that makes you hold your breath. Their courting is refreshingly restrained.
Jamie Foxx's Bats is a force for agitation and suspicion. Foxx has the cool and a dazzling sense of rhythm when he's got a character and the dialogue to deliver. His musical ability makes him the most comfortable to roll with the tempo of each scene. Jon Hamm's Buddy is easily his best cinematic turn to date. Eiza González's Darling plays the perfect motivation for decadence; seductive, sweet and a badass with a gun. González's Darling incites Hamm's Buddy into a cocktail of chivalry and madness.
My first viewing of "Baby" Driver was under a cloud of grief. My Nanna was on death's door. After leaving the nursing home I could not think of anywhere that I'd rather be than in a cinema. The luminous, capital "R" Romantic, candy coloured sunshine of Wrights "Baby Driver," couldn't break through the cloud. I could only think about my Nanna, a little Maltese woman that couldn't read but that loved a classic movie, her combo TV and VHS player. On a screen locked in a 4:3 aspect ratio, that was about the size of an average laptop, my Nanna and I watched epics like "Ben Hur"- the scale, the toil, that star power of Heston at his peak -movie magic living larger than the tiny screen earned.
In my second viewing of the film, the tunes were sweeter. Every beat of every chase was turbo-charged by a laser focused appreciation. The hurting masses of horses and bodies in the chariot scene in "Ben Hur" are a testament to cinema. Wright and filmmakers like Dr. George Miller pine for that rarely realised chemistry in movement; the magic of orchestrating and capturing that chaos.
Wright's hurtling chariot ride is once of precision and control. A divine turbo charged metallic ballet. However, unlike his previous films it plays like the sweet mixed tape he made for a sweetheart.
★★★★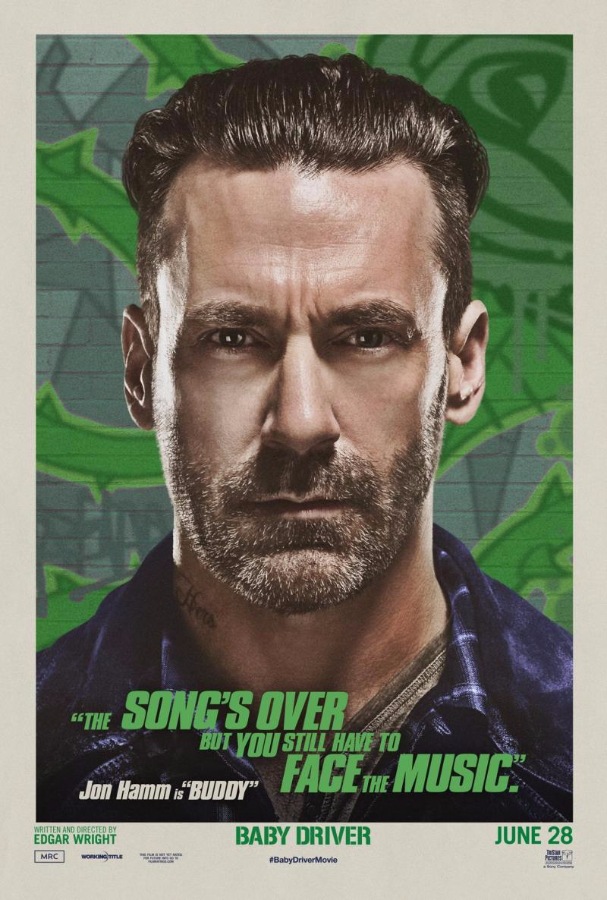 Directed by: Edgar Wright
Written by: Edgar Wright
Starring:
Ansel Elgort ... Baby
Jon Bernthal ... Griff
Jon Hamm ... Buddy
Eiza González ... Darling
Micah Howard ... Barista
Lily James ... Debora
Kevin Spacey ... Doc
CJ Jones ... Joseph
Jamie Foxx ... Bats
Blake Howard