Being the Boogeyman -  "John Wick: Chapter Two" (2017) Review
A wife suffering from an incurable terminal illness; the light warming a dark soul extinguished. What else did John (Keanu Reeves) have to live for? A light carried from beyond the grave by an adorable bundle of puppy love and a car, his last sanctuary to roar with speed and ride the razor's edge. Enter Iosef Tarasovof (Alfie Allen), son of New York's gangster oligarch Viggo (the recently departed Michael Nyqvist), stealing his car, killing his dog and beating Wick to a pulp.
2014's "John Wick" from director Chad Stahleski and writer Derek Kolstad brought Keanu Reeves back to the action genre with viscous precision and practically had the audience baying for the blood of every foe he encountered, especially that insipid shit bag Iosef. The original film, a supercharged tale of vengeance, showed us what happens when you poke the man they send to "kill the f*cking boogeyman." What made "John Wick" special, was a rich tapestry of a world with secret societies of assassins, strict codified living, sanctuaries that's allowed to add texture without imposing on the story.
"John Wick: Chapter Two" sees our reluctant assassin being brought back into the fray to repay a part of the debt that allowed him to escape in the first place. Santino D'Antonio (Riccardo Scamarcio), an heir to a shady governing structure of the Continental, uses a blood oath with John to steer this beast to take out his sister Gianna D'Antonio (Claudia Gerini), clearing the way for his ascension to his father's position on the 'high council'. How long will Santino's reins hold?
Derek Kolstad's world is rich and we gleefully explore it. These expansions to the established order of the world were glanced over in the original film and done with a level of restraint that doesn't kill the momentum of the film with explanation. While the first hotel served as a haven, we explore all the other available services on our international visit to the Rome franchise. We watch John assemble an assignment from the ground up. Custom suits for fashion - that are also laced with state of the art body armour; a Sommelier that swaps out wine knowledge for weapons and specialises in pairing the right tools for whatever kind of death you're about to serve up and even a visit to an acquirer of city blueprints for stealth infiltration and escape.
Reeves has a swelling energy. As he stalks through Roman catacombs in deathly hues, like a living plague on those that'd dare stand in his way. Stahleski frames Wick to cast his black shadow against the stone archways; like the spirit of the boogeyman - reminiscent of Cesare in Robert Wiene's German Expressionist masterpiece "The Cabinet of Dr. Caligari" - is temporarily glimpsed in the light trickery. Wick's encounter with his target Gianna (Gerini) plays out more like "The Seventh Seal," - Swedish master Ingmar Bergman pits a knight in a chess match against the personification of Death. Gianna recognises her fate and uses her final moments to speak to the morality inside this monster we've seen slithering through the mausoleum maze more at home than in his New Jersey mansion and its modern architecture. It's a challenge to Wick's soul and Stahleski and Reeves construct a deeply ambivalent scene.
Once his mission is complete, he's unleashed to punish those who forced his hand. There's a vitality and fervour of the martial arts prowess. Reeves is an impressive figure and although you may forget that his biggest role was as martial arts messiah Neo in "The Matrix Trilogy," his physical performance as John Wick lets you know that he's still got it. Wick's style is brutally efficient. His actions are impulse and reflex without any hint of hesitation. Stahleski crafts a flow, watching Wick / Reeves momentum build; he's the snowball that builds into an avalanche and filmmakers must interrupt that rhythm with the collision force of a wrecking ball. Common's Cassian is an embodiment of that interruption. A formidable foe, with the stature, and intensity to be able to take it right to Reeves' Wick.
The headline action is "gun-fu," and head shots are the achievement count. However, the "John Wick" series is filled with delicious exchanges as foes encounter one another where violence is forbidden. Whether it's Wick seeking advice from Continental Kingpin Winston, the ever reliable Ian McShane who with a flick of a wrist can imply kingly power; or Charon (the weathered Lance Reddick) whose piercing gaze interrogates and pleads with Wick to know that he's not in Rome to murder the Pope. My personal highlight Cassian and Wick sharing a drink after their Roman rumble leads them to swan dives through a window into the Sanctuary hotel. Another new character to the series 'Bowery King' played with relish by Reeves' "Matrix" alum Laurence Fishburne. Mr Fishburne is completely over the top and theatrical as this shabbily dressed hobo; hinting at a rebellious element to this society, readying themselves for challenging the order of things.
"John Wick: Chapter Two" is a film that can't really exist without its predecessor. We get a minor taste of the events of the previous film to open proceedings, but without that incredibly powerful introduction to the character, one imagines that you'd be lost as to the significance of the events that drew him back to this life.
"John Wick" opens this series awakening of the beast. "John Wick: Chapter Two" is this untameable thing attempting to be broken; the conclusion hints at a beast with his back to the wall. Wick is the role that Reeves was born for; despite its dependence on the original, "John Wick: Chapter Two" is top shelf revenge as stylish as the protagonist.
★★★½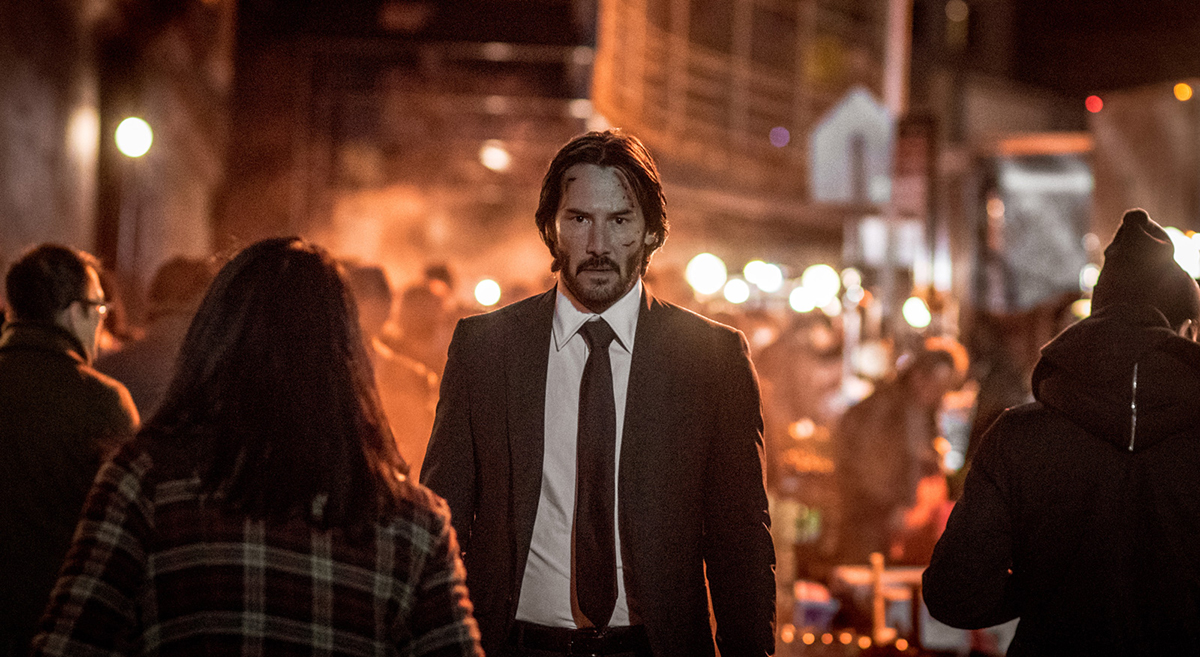 "John Wick: Chapter Two" (2017)
Directed by: Chad Stahleski
Written by: Derek Kolstad
Starring:
Keanu Reeves - John Wick
Laurence Fishburne - Bowery King
Common - Cassian
Ian Shane - Winston
Riccardo Scamarcio - Santino D'Antonio
Claudia Gerini - Gianna D'Antonio
Ruby Rose - Ares
Lance Reddick - Charon
Country: U.S.A
Blake Howard