"Happy End" (2017) Sydney Film Festival Review
In the opening moments of "Happy End" you're watching a character that doesn't know they're being watched. The footage is taken from an iPhone camera and commenting on what's unfolding like a Facebook Live or Snapchat video; and there's an implied menace in the position of the person capturing the footage. The subject is facing a mirror brushing their teeth and the person holding camera is standing in a darkened room - invisible to the reflection. The unfolding commentary written on the footage demonstrates a frightening thing, the camera holder has been observing and memorising every detail of their subject's movement so that they can predict it before they do it. Master cinematic manipulator Michael Haneke is up to his "Cache" tricks once again as he's triggering the events of "Happy End"; a musing on dignified death and control that whisks together themes and style from his contemporary works. However, unlike "Cache" he's not trying to be nearly as elusive with their identity for the audience; just the characters; a subtle and suspenseful change.
After the hospitalisation of his first wife, Thomas Laurent (Mathieu Kassovitz) collects his estranged daughter Eve (Fantine Harduin) and takes her into the Laurent family home. Within the opulent palatial structure is a dysfunctional, bourgeois family. Ageing patriarch Georges (Jean-Louis Trintignant) is constantly negotiating ways to end his own life; his daughter and successor in business Anne (Isabelle Huppert) is negotiating ways to negotiate the business' future; and Dr Thomas and his small new family - his latest wife, their son and now Eve. Floating on the fringes is Pierre (Franz Rogowski), Anne's son, who continues to make one aggressive blunder after another, squandering his position in the family business.
Haneke perhaps is once again playing games with the audience. Is "Happy End" about the desire to be able to give oneself the dignity to decide when to go; or in a vastly darker and perverse sense is it conversely about one deciding that it's time for someone else to go. It's necessary to be evasive around the details of the simmering parallel plot that's giving the story momentum; so one cannot say too much for fear of spoiling how it unfolds.
Haneke seamlessly integrates the camera being locked off to force the audience to scour every single aspect of the frame and some beautifully organic appraisals of movement - one example is perhaps the greatest reverse park to grace the screen since "The Blues Brothers." In a series of agonisingly staged set ups, the audience is forced to endure time and distance (Pierre confronting the family of an injured employee in real time so far back in the frame that you can't hear a word spoken); door bells (Anne tenaciously berating her son with calls and door buzzer rings in order to rouse him from a sulk); or movement (Georges wheel chair rolling down a road away from his home attempting to solicit a participant to relieve him of his remaining life).
Haneke, like the dearly departed Iranian master Abbas Kiarostami, wants the audience to not only meditate on the frame but to take the plunge into the character's experience. If like Pierre, you're being tormented by ring after ring of a phone, there's something powerful watching how that unfolds in real time. Especially after the gnawing opening frames of the "Happy End" it makes every scene hum with the 'dog whistle' of impending death.
Trintignant's Georges feels like a near direct follow on from his character in "Amour," candid about controlling his own demise. He's relishing the opportunity to be cantankerous, wise and flippant about the feelings of his relatives. Huppert's Anne is absolutely tremendous, casually shrugging off what she conveys as 'quaint' attempts by her father to end his own life. She's focused on her lover - Toby Jones' Lawrence Bradshaw - and some underhanded negotiations that will ultimately make her rich; even if it means essentially disowning her son. Mathieu Kassovitz's Thomas is confident and cocky. His position as a Doctor often allows him to have the backstage passes to life, wandering around with the confidence to escape notice. When Fantine Harduin's Eve enters the picture her young eyes make deductions that this group of flippant adults don't want her to see and their nonchalance allows her to integrate into the family without hesitation. Franz Rogowski's Pierre is yearning for feeling everything in the inanimate politeness of his family's station.
Haneke's "Happy End" is darkly funny, impeccably made and the performers relish being conducted by a master; however it doesn't have as clear a drive or fervent punch of his other string of incredible works, except for one glimmering moment. In the hands of the cameraperson once again for the closing seconds of the film the characters are struck with the sociopathic disquiet that's disrupted their lives; one glance from Huppert's Anne is filled with a divine realisation, then, credits.
★★★½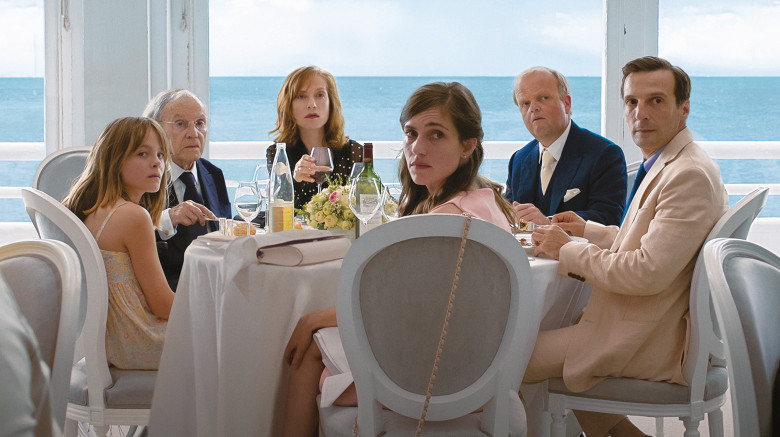 Directed by: Michael Haneke
Written by: Michael Haneke
Starring:
Isabelle Huppert ... Anne Laurent
Jean-Louis Trintignant ... Georges Laurent
Mathieu Kassovitz ... Thomas Laurent
Fantine Harduin ... Eve Laurent
Franz Rogowski ... Pierre Laurent
Toby Jones … Lawrence Bradshaw
Country: France
Blake Howard