"Song to Song" (2017) Sydney Film Festival Review
Terrence Malick's latest film "Song to Song" is an inauthentic sprawl. What begins as a promising Faustian love triangle between the seductive music producer (Michael Fassbender), an ambitious music fan (Rooney Mara) and an Austin music man (Ryan Gosling) being courted with the promise of a career; frustratingly devolves into a two hour clothing advert.
The specific ins and outs of the production deals, the talent discovery process or the distribution of any music from the key characters in the film is merely alluded to in a variety of encounters. In much the same way that "Knight of Cups" gracefully stalked through affluent L.A movie-making party scene; "Song to Song" makes its way through the Austin music scene (specifically the SXSW Festival) replete with real-life antique rock stars like Patti Smith, Iggy Pop and The Red Hot Chilli Peppers.
"Song to Song," of course, is visually sumptuous. Malick's focus continues to put his camera in the space you can feel when you're just about to lean in for that first kiss. However, the artifice of the characters is like an earth that squashes any potential current.
The characters have names - Ryan Gosling plays BV, Rooney Mara plays Faye and Michael Fassbender plays Cook - but I can't say that I remember them being mentioned throughout the film. They're interesting to note because Malick's conception of the characters is largely reflections of their revealingly limited titles.
Gosling's BV is aptly restricted from blooming into anything beyond the initial. He's a musician and yet we're denied opportunity to hear his music. Instead he treads on the outskirts of Cook's tractor beam of temptations. He's a living clothes horse - this object of desire in his deliberate scuffed up gear has that serious streak of introversion that seems to temper the wildest of titanic extroverts. In short, he's got the look of a rockstar.
Mara as Faye, conjuring perhaps most famously the starlet trapped by a Kong and in "Song to Song" her fate is much the same. Series after series of hopeless impulses and desires that gradually reduces her to nothing more than catnip for the predatory impulses of sleek feline beings. Fassbender's Cook embodies a pride-leading lion; passive when his desires are quenched - vicious when he's thirsty. Later in the film, Bèrènice Marlohe's Zoey encounters Faye like a delicate scavenging leopard pawing at this fragile outcast, goading her out of her shell.
BV's hesitation and Faye's fragility draw the character's together. BV's impulse seems to be one of buoyancy; Faye's in deeper than he is and he get's a chance to validate the archetypal impulse to rescue her from from the clutches of the beast. The heroics though are quickly extinguished with the realisations that Fassbender's Cook must sample his wares. He finds solace in Cate Blanchett's Amanda, an accomplished woman, that may as well be the same character as her last role Malick role Nancy, reeling out of a relationship with Christian Bale's Rick in "Knight of Cups." their relationship is kind of guaranteed temporary attraction.
Fassbender's Cook is an architect of the ingredients around him. Like a chef, he's constantly testing the flavours of the ingredients in his concoctions; in some instances not being able to resist devouring the feast he's assembled to exemplify this most decadent lifestyle.
There's also a dark and deeply disturbed dimension in "Song to Song." Natalie Portman's Rhonda is the Southern belle that Cook takes a liking to in what can only be described as an experiment. He sees a strange unicorn, a manifestation of that high school beauty as an adult and begins to groom her - along a strange alternate timeline one assumes to that with BV and Faye - to be his wife. Seduced with a tangible and specific portrayal; the spellbinding persuasion of life changing money she begins the descent from purity to his degenerate life. Holly Hunter plays Miranda, Rhonda's mother. Miranda is Rhonda's motivation to sacrifice her pure life on Cook's altar of decadence.
This descent features the lightning strike of the movie. After participating in one of Cook's sex encounters Rhonda begins conversing with a prostitute who begins to share how she arrived at this destination. The contrivance to that point of a film of exclusively beautiful characters refreshingly pauses to see a person with flaws with lines on the face, with tattoos and a story is like a metaphorical bucket of iced water.
In an interview with Deadline Malick said: "We had an 8-hour first cut of the film and it took a long time to cut it to a manageable length."
Wild glimpses of Val Kilmer's Duane cutting his hair live on stage is just one notable example; significant storylines are sheared into this truncated final result. Malick's pre-occupation with this 'scene' may have had a purpose, but the final product is an artist condensing an exploration into reflexive, incongruous yet beautiful moments. "Song to Song" feels like the memory Malick intended, if he suffered a traumatic brain injury.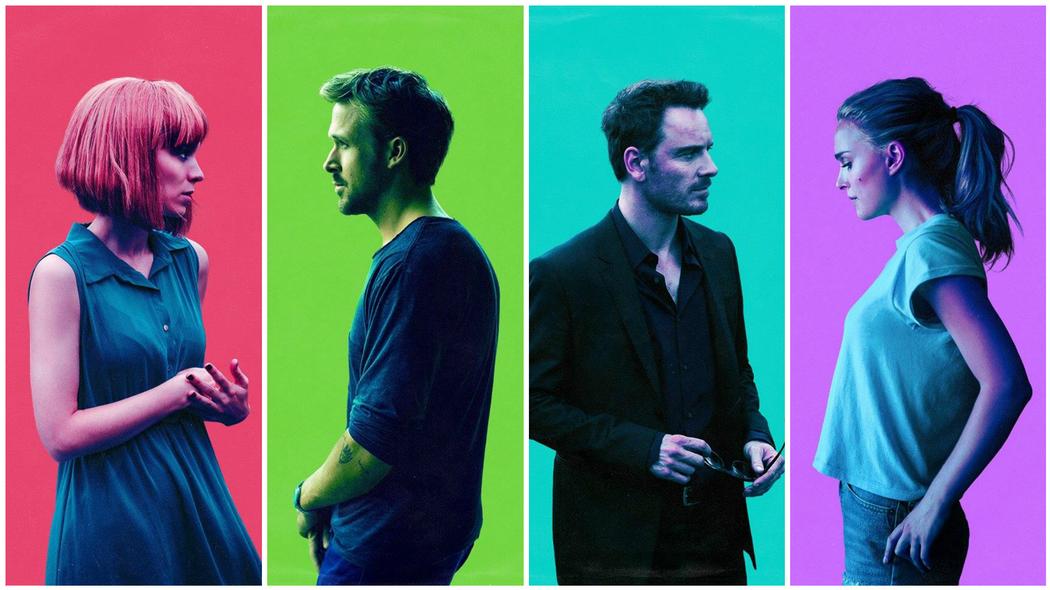 Directed by Terrence Malick
Written by Terrence Malick
Starring:
Ryan Gosling: BV
Rooney Mara: Faye
Michael Fassbender: Cook
Natalie Portman: Rhonda
Cate Blanchett: Amanda
Holly Hunter: Miranda (Rhonda's Mother)
Bèrènice Marlohe: Zoey
Val Kilmer: Duane
Jaylyn Jones: Escort
Olivia Grace Applegate: Emma
Iggy Pop
Patti Smith
John Lydon
Florence Welch
Blake Howard