Sydney Film Festival 2017 Diary Days 1-3
Dir. Warwick Thornton Country: Australia
The first stanza of "We Don't Need A Map" is a furious, energetic, punk rock f*ck you, that kicks the audiences arse with a collision of styles and content. Shaun Tan's "The Rabbits" (an incredible children's novels that depicts Rabbits as an invading force to a native animal populated land) springs to mind, as Thornton uses metal toy avatars of Captain Cook and his ships as well as the natives, constantly intercut with the puppeteers to remind you of the filmmaker's hand in creating these scenarios. This documentary feature was a reaction to the controversy that director Warwick Thornton ("Samson and Delilah") ignited seven years ago when he described the Southern Cross symbol as the new Swastika. Thornton embraces and qualifies his statement but collates a collection of personalities and indigenous elders to weigh in on the topic.
The knee-jerk reaction, the opening chords of this stretched out cultural punk anthem, is to say fuck you to those who would begin to bother to fight. Thornton then takes a more mature examination of the origination of the Southern Cross as a symbol of identification for white Australia (the Eureka Stockade) and from those Nationalistic visions of the John Howard era. But somewhat aptly Briggs (rapper, actor Adam Briggs - hiphop group 'A.B Original,' and "Cleverman") enters and discusses that despite whatever noble intentions one could have tattooing the Southern Cross on their body, prior to the Cronulla Riots, that symbol has now been co-opted by the racist white nationalist historical denier and Hansonists (Pauline Hanson). Like the Swastika before it, the bad guys own it. Thornton also casts his eye back to 'Southern Cross' branded windmills that peppered the Australian landscape and extracted the water from the ground and dried out natural underwater springs that indigenous people had used for thousands of years.
As an Australian from two threads of European migrants, I was struck like a lightning bolt with revelatory barbs of white Australia's culturelessness; the problematic nationalism underpinned by a lack of acknowledgment and hostility. Australia, in principle is bankrupted. An outdoor prison camp on stolen land; we're a culture that's like the families in "Goodfellas" benefitting from leading lives of crime and despite the fact that we know we're trafficking in stolen goods, we're clawing to it like we originally owned it. It's like we're on the precipice of that daunting realisation constantly and the reaction is ignorance. The questions are asked, but Thornton doesn't have the bandwidth to seek all the answers here.
The middle of the film sags as the reactionary voice begins to seek out some of the deeper explorations on offer. In that transition to the film's conclusion you transition from a drag race to a traffic jam. Perhaps the more profound messages are to be found in the glimpses into mythology with Indigenous elders. These characters so deeply resonate with the lore, the passage to adulthood and the sacred meanings of the formation of stars to mythology and significant celebrations throughout indigenous life that they find it strange that we would attempt to 'own' that symbol by etching it on our skin. Even in sacred exercises, they disassemble their tokens of that image as to never purport to ownership. Thornton and other guests aren't afraid to admit to the inclination of peoples of all colour to identify with symbols such as the Aboriginal flag; evidently the association short hand that demonstrate support or allegiance are somewhat universal.
The deeper analysis at the end of the film pays off the charged up beginnings. The documentary is going to be translated to NITV; one hopes that they cut it down significantly into a supercharged shorter cut (of an already short film mind you). Right now the message is strong but the delivery method is slightly watered down.
★★★★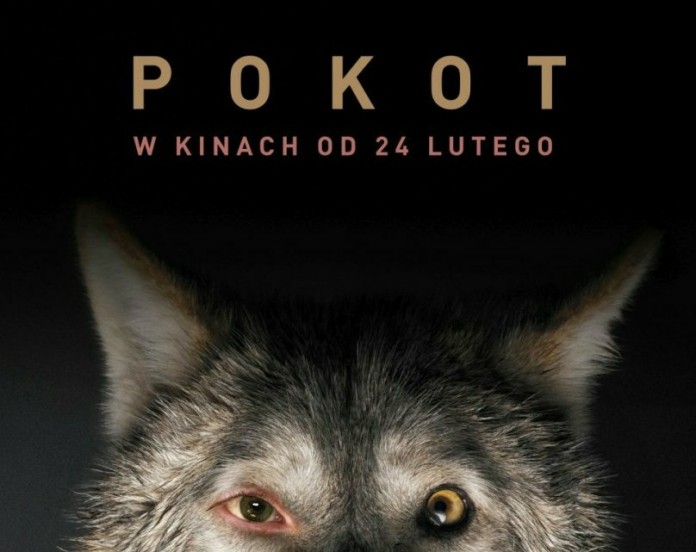 Dir. Agnieszka Holland and Kasia Adamik Country: Poland
Set in provisional Poland in the Klodzko Valley, an astrology obsessed, semi-retired teacher Duszejko (Agnieszka Mandat-Grabka) lives in the picturesque countryside with her two collies. When they go missing she's sure that the hunting obsessed community are responsible. While she's on a crusade to find those responsible, she's embroiled in a series of murders. When she goes to the authorities claiming that animals are taking their vengeance on the hunting obsessed town; she's ignored.
The real visual flurries for directors Agnieszka Holland and Kasia Adamik in "Spoor" are as a result of the ensemble cast members and supporting characters Matoga (Wiktor Zborowski), Dyzio (Jakub Gierszal), Dobra Nowina (Patrycja Volny) and Boros (Miroslav Krobot) who as they enter the realm of Duszejko receive readings, and the audience sees projections that are either in her mind as unreliable history or a more traditional flashback. It's strange because these readings of characters show that damaged childhood events have made them isolated from the greater population and put them in the orbit of Duszejko. Like Nancy in "The Craft" would say; they are the weirdos.
Writers Olga Tokarczuk (who also wrote the novel) and Agnieszka Holland structure the film so that it's chapters occur in the hunting seasons. The leading lady is an unreliable narrator from the beginning of the film. Duszejko (Agnieszka Mandat-Grabka) is the kind of manic character that can't function objectively in the echoes of gun shots and animal death that abound. As the film progresses though you begin to get the feeling that you're being manipulated by the way that Duszejko views the world. One begins to ask what aren't you seeing? And as many people joke about with "Murder She Wrote." the one thing that all the murders have in common is this mad old woman.
★★★
"The Nile Hilton Incident"
Dir. Tarik Saleh Country: Egypt
A high profile affair between a beautiful singer and a prominent businessman ends with an assassin (Slimane Dazi) keeping her quiet. Housekeeper Salwa (Mari Malek) witnesses the quick escape of those responsible. Noredin (Faras Faras) is entrusted with the high profile case. "The Nile Hilton Incident" is a movie that initiates us to the story and characters via a familiar police story archetype. A crime takes place at the beginning of the film, and the audience see the traps that those responsible leave for themselves. However the more that we dive in this all too familiar process, the more we realise that the Egyptian legal process depicted is a bramble of scaffolding protecting political structures and powerful individuals.
Noredin (Faras Faras) is the picture of the force. Clean cut, from a respected family and participating in the necessary amount of corruption that is appropriate for his protection and view. More than perhaps any other police story, as the film progresses, you have no idea how it's going to be possible for Noredin to bring any of these characters to justice.
Writer/director Tarik Saleh constructs this tale of a compromised murder investigation in the minefield of institutional corruption, and it is both hilarious and disturbing. Cairo is a city that falsely portrays its evolution into a top tier world city, while greasing the palms of an endless caravan of hands out from a labyrinth of interconnected corrupt institutions wanting their share. Saleh establishes the backdrop of the film as the Egyptian Revolution; and in an inspired move makes the focus of the characters in the film oblivious to the ground swell of discontent waiting like a leaking dam.
"The Nile Hilton Incident" makes for engaging viewing because a police officer in name only, must live up to the mantle in the face of encroaching revolution and overwhelming odds.
★★★½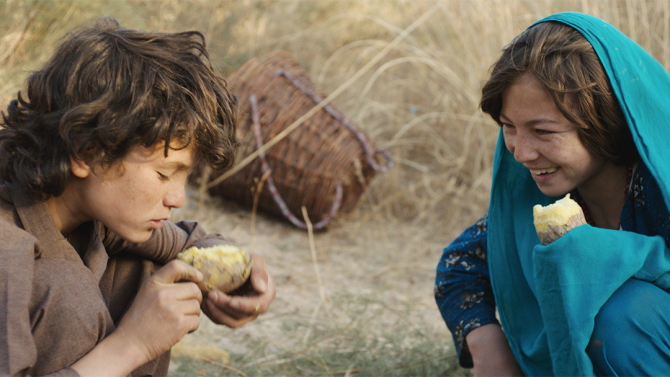 Dir. Shahrbanoo Sadat. Country: Afghanistan
Shahrbanoo Sadat's striking debut film "Wolf and Sheep" is set in a rural Afghanistan untouched by war. In a modest village and shot in the style of 'cinéma vérité' we glimpse society through the lens of shepherd children.
Sadat's fresh perspective of Afghan society is one that's rarely viewed on screen. "Wolf and Sheep" has a disarming quality that from the moment it starts, you're not actually sure that what you're viewing is a fiction. Sadat casts an entire crew of non actors including some occupants of the village where she grew up, to conjure the most authentic representation of the life that she lived during the formative years of her life. Village life and customs are on show; the simplicity of routine, the structures of the customs form a backdrop to an engaging tale of friendship across the gender divide. It's only as the film's mythical elements suddenly merge with the modest tale of rural life, untouched by an omnipresent war that you're shaken into the realisation of its fiction.
The mythical force in the story is the Kashmir Wolf, a bipedal beast that sheds its fur to reveal a tall, green, nude female fairy. This wolf/fairy creature stalks the plains to kidnap those who act cruelly, to return with her up the mountain. When the fairy appears, it's shocking. Sadat is constantly manipulating Hollywood preconceived notions of what her country is on screen; and that is both in the most agonising details of the village itself and the buildings, but also exploding any preconceived notions about devout restraints on folklore.
This debut from the an exciting new voice was selected for the director's fortnight at Cannes Film Festival and I'm thrilled to bring you a chat between Sadat and I to the next Pod Save Our Screen.
★★★★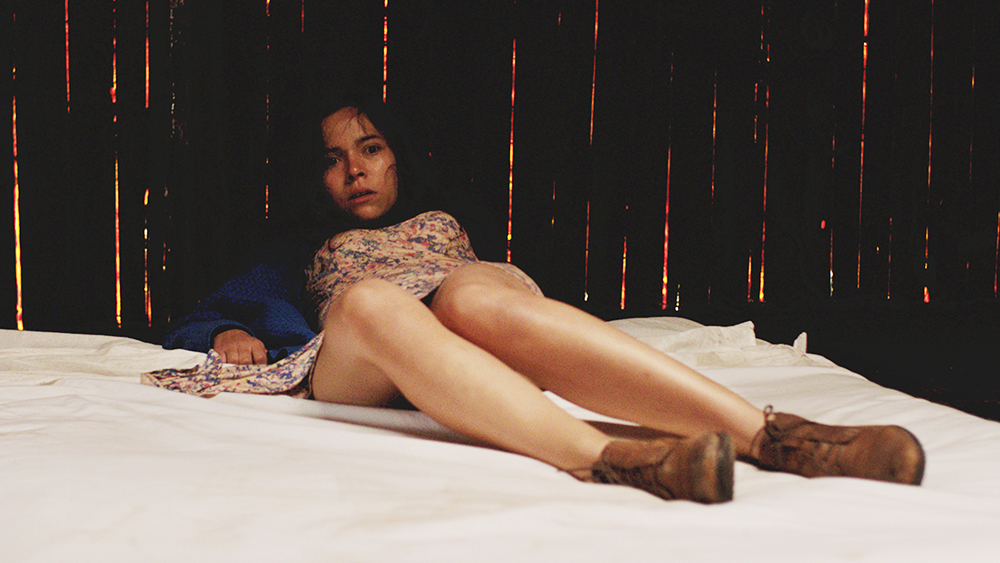 Dir. Amat Escalante Country: Mexico
"The Untamed" is the filmic lovechild of Stanley Kubrick and Pedro Almodovar; though neither element satisfactorily complements the other.
The opening seconds of "The Untamed" are a still shot of an asteroid cluster, a destroyed planet, a clump of space rocks; or perhaps all of those things. Director and co-writer Amat Escalante frames the cold silence of space for the audience to examine. It's not clear what we're meant to be seeing. Cut to an exhausted naked women, ravaged and injured by an all but unseen beast (except for a glimpse of a tentacle). The thumping drums reverberate like a sound squall. The woman, Simone Bucio's Verónica, stalks away from the encounter into the woods through a blanket of fog. She's deeply satisfied, but the beast is demonstrating dissatisfaction with the roughness that's resulted in her being injured. When Verónica seeks treatment in a local hospital, she meets a gay male nurse Fabián (Eden Villavicencio) who she convinces to seek out the embrace of the beast. We're also introduced to Fabián's secret lover, his sister Alejandra's (Ruth Ramos) husband, Ángel (Jesús Meza).
"The Untamed" is absolutely a tale about a being from space that brings a voracious sexual appetite. Escalante's visual style and construct of those elements of the story bleed into a sense of foreboding as you're entering new spaces. He toys with the audience on more than one occasion moving like a night stalker into enclosed spaces, inhabiting an inhuman presence. On the other hand, co-writers Escalante and Gibrán Portela, fuse this sci-fi to a modern Mexican family melodrama. The aesthetic then relaxes into something much more coherent.
The beast's arrival and purpose are opaque, even those who care for it/him (it feels like a him), don't explain how they've transformed their lives into keepers of this beast. The mystery is actually in how this beast's motives and 'consumption' interconnects with the film's relentless punishment of gay characters. Perhaps it's even more broad than that, it's in all characters whose active sexuality and promiscuity makes them potential prey for the beast. One hypothesis may be that the Mexican machismo and social pressure is manifest in this being from another world. There's something deeper in this conflict that feels unanswered that leaves you with an unsettled feeling.
★★★
Dir. Ann Marie Fleming Country: Canada
Rosie Ming (a.k.a Stick Girl voiced by Sandra Oh) is a half Chinese, self published poet from Canada. On the public release of her poems, she's invited to the Persian Poetry Festival. As we journey to the other side of the world, we inherit the perspectives of the eclectic international poet laureates, the rich Iranian/Persian literary tradition - especially Rumi - and finally Rosie's own history. Written and directed by Ann Marie Fleming (with cultural research from Maryam Najafi), "Window Horses" takes her animated avatar, 'Stick Girl', and make her the blank slate for the audience to be projected upon. In the early stages of the film, Fleming's guise of the lead character means that you don't get a sense of where she fits into the story, so as the story progresses every revelation packs an additional punch.
Fleming creates a wonderful rendering of the world, and does a great job of projecting the poetry into larger than life visions. "Window Horses" is absolutely at its best in the awkward moments of clashing cultures; and Fleming's decision to force the audience to not only understand language that Rosie understands means different viewing experiences for people who speak the varied languages of the international characters.
★★★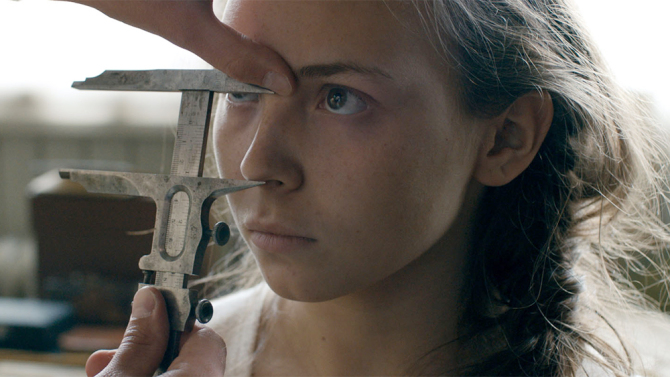 Dir. Amanda Kernell Country: Sweden
Elle Marja (Maj-Doris Rimpi) is dragged along to her sister Njenna's funeral by her son and granddaughter. After the wake, we take a journey back to Elle Marja at age 14 (Lene Cecilia Sparrok), a reindeer-breeding Sámi girl, enduring the 1930's racial discrimination at the height of eugenics. Attending a school with her younger sister Njenna (Mia Erika Sparrok), Elle Maria is so constantly battered with her inferiority that she cauterises a resentment for her culture, her people and her customs that are holding her back. When Elle Maria meets Niklas (Julius Fleischanderl), a young handsome lad at a dance that she attends in disguise - normal clothes instead of her traditional Lap garb - she makes a connection that transforms an escape fantasy into a potential reality.
Writer/director Amanda Kernell's work does a great job of acknowledging the storm of adolescent yearning for acceptance and the relief that being normal allows. Kernell applies a new lens to White Europe's bat-shit mechanisms to maintain genetic purity during this period of history; and the exploitation and horrific assimilation does not seem to be the purpose; but that these traditional Reindeer farmers are to be considered a human sub-species. It's easy to empathise with Elle Marja's feelings and to qualify that she's naive enough to have come to the correct realisation that her people are just as capable as her fellow Swedes. She unfortunately cannot overcome her family's adherence to tradition. but as we see how her rebellion unfolds, we're reminded of an older, wiser and wounded Elle Marja, reflecting on the chaos she created for her family. This deep tale, filled with anxiety and regret is definitely worth your time.
★★★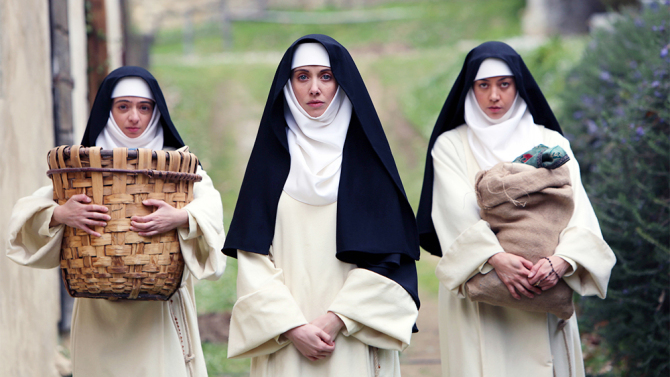 Dir. Jeff Baena Country: America
There are few rules that I have, but when it comes to attending a festival; I'm desperate to know as little about the films that I'm going to see as possible before seeing them. Unfortunately, when you're in this game, you're constantly able to get your fix from the constant stream of information about any of the films that you're excited to see throughout the year. "The Little Hours" is one of the rare films that I'd watched in trailer before viewing the film. When you see a modern adaptation of "The Decameron" coming to the screens, about 14th Century nuns getting up to mischief, so-to-speak, on paper, it's an austere allegorical film about implicit patriarchal structures and the Church's manipulation of societal standing due to finance.
Forget all that.
Thanks to an amazing trio of comic lady leads in Alison Brie. Aubrey Plaza and Kate Micucci and support from a stacked cast Dave Franco, John C. Reilly, Molly Shannon, Adam Pally, Jemima Kirke, Nick Offerman and Fred Arminson; "The Little Hours" became a cathartic exercise after a day of challenging and interesting cinema from around the globe.
Very early in the film writer/director Jeff Baena introduces us to Genevra (Kate Micucci) and Fernanda (Aubrey Plaza) discussing how their donkey was able to escape again and how far she had to travel to find and return it. When the convent's grounds keeper wanders over to wish the ladies well, he receives a barrage of curses, and more than once is told that he's a "piece of shit." We then travel to a nearby castle where the war and torture obsessed Lord Bruno (Nick Offerman) discovers his wife Francesca (Lauren Weedman) having an affair with Massetto (Dave Franco). Escaping the castle and running into Father Tommasso (John C. Reilly) he's enlisted to fill the shoes of the former groundskeeper that walked off the job after one final piece of abuse pushed him over the edge.
What follows is just a beautiful hilarious orgy of Nun's behaving badly, exploring lesbian impulses, drinking, doing drugs, Alessandra (Alison Brie) having sex or Fernanda (Plaza) attempting sex with Massetto (Dave Franco), and occasionally practising blood rituals and witchcraft with Marta (Jemima Kirke). Thank the maker that Bishop Bartolomeo (Fred Armisen) is at the convent to catalogue the sins at the conclusion of the film.
★★★½
Blake Howard